Andre Dicaire – Guitar, Vocals, Banjo, Ukelele and Cowbell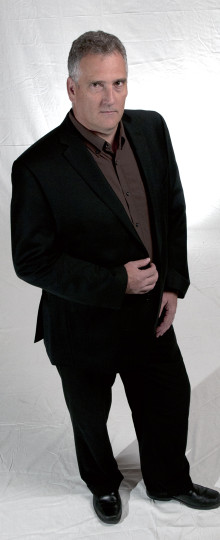 Andre is simply confused. French Canadian, born in Ontario, lived in Quebec, Nova Scotia, New Brunswick and back to Quebec for college, where he met his love, Nancy. She liked his quirky music sense and he loved her chocolate chip cookies. Andre started singing in a high school rock band in '76, learned the guitar and went on to play coffee houses and variety shows at the University of New Brunswick and Vanier College in Montreal.
Andre got a real job in 86, got married and had two wonderful kids and raised his own drummer from scratch. He moved to Austin, Texas in 1998 where the self proclaimed live music capital of the world rekindled his musical interests. Looking for the right group of musicians (and a drummer) to play with, he found "The Pigs" in Calgary and promptly moved back to Canada to play out his Rock n' Roll dreams.
Favorite Bands – Rush, April Wine, Cat Stevens
Favorite Food – Italian
Other instruments you play – Piano, harmonica, ukulele, and perhaps most importantly the Cowbell
Most famous moment (band or otherwise) – My famous impromptu nude beach scene in San Diego (wow, that water was cold)
Age when I started playing – 15
Favorite song we perform – Mama Let Him Play by Jerry Doucette
Favorite room you've played – Flames Central in Calgary
Favorite Music Movie – Rocky Horror
Best tip for musicians just starting out – Play with as many people as you can and pay attention. You never know what you'll learn.
| | | | | |
| --- | --- | --- | --- | --- |
| Chris Martin | Dave Dallas | Dewey Kuchle | Andre Dicaire | Kim Michon |