Dave Dallas – Keyboards, Vocals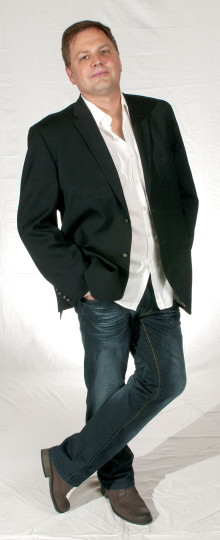 Dave's musical interests range from classical to broadway to rock and pop. His influences include Yes, Genesis, UK, Styx, Elton John, Billy Joel and the best band ever, The Beatles.
One of his earliest memories is climbing up on Nonno's piano stool and banging away on the keys, so I guess his interest in keys came naturally. Being raised in a large Italian family, his first real instrument was an accordion. He took accordiion lessons on for a few years and tried to play his favorite rock tunes on it.  (Ever Heard Yes played on an Accordion?). As soon as he could, he started taking piano lessons, going up to his Nonno's to practice.
When Dave was 14 he bought his first keyboard with paper route money saved in a coffee tin; a Crumar Roadrunner piano, followed by a Roland SH1000 synthesizer. Heaven. Later, when Dave started playing in bands there weren't  a lot of keyboard players around so he got to play with a lot of musician's who were much older and more experienced.  He played in various bands all over B.C. and the Pacific Northwest before deciding it was time to ditch the Duran Duran hair and finish school. During school he did a little studio work and jumped into blues bands for the summers to make ends meet.
After school he moved to Calgary and like the rest of the band, got married, had a family and put music on hold. The itch however was always there and he eventually acquired enough gear to build a home studio. For Dave, getting together with The Pigs has been exciting and A TON OF FUN! He love playing live again and can't wait to see where The Pigs Fly next!
Favorite Bands – Beatles, Beatles, Beatles! Seriously, Beatles for so many reasons.  The Who, Queen, Elton John and Billy Joel (gotta stay true to the piano men). There's so many. Chicago (horns and harmonies), Train, Bruno Mars and the list goes on.
Favorite Food – Dave is half Italian and he cooks it too.  His favorite has to be a big bowl of pasta with a glass of wine or two of course.
Other instruments you play – Saxophone, Bass, Guitar, Accordion, Harmonica, a little ukulele and recorder (from school).
Most famous moment (band or otherwise)– Well, there's been a few very minor ones, but Dave says his most famous moment is yet to come as reflected glory from his kids.
How old when you started playing? – 4
Favorite song we perform – Dave says its too hard to pick just one so he's not. Definitely Moondance. Awesome feel to that song and Andre just kills it on vocals. He loves playing the Who tunes because of the energy.  Long Way To The Top is fun (how could it not be when we add a live bagpiper). Of course he loves the Beatles tunes and Saturday Night is a blast every time. He also likes the harmony songs, like All Been Done and Wagon Wheel.
Favorite room we've played? –  The Calgary Petroleum Club, because it was such a beautiful sounding room, sort of like playing in a big studio. The first time we played there was kind of a 'coming out' gig for us.Favorite Music Movies –  Spinal Tap, A Mighty Wind, Hard Day's Night.Best tip for musicians just starting out ? – Listen to all kinds of music (and learn to play them). Don't get stuck in the 'I'm a purist' or 'I only like this music' mode. You won't learn nearly as much or have as much fun. Emulate players you admire or try to copy their styles. Take lessons, whether it's from a professional or the older kid down the block. Learn everything you can from them then find other people to teach you. Practice practice practice. Play with other musicians, and watch other bands; it's the best way to learn and the most fun. Above all, have fun and enjoy it; that's what it's all about.
| | | | | |
| --- | --- | --- | --- | --- |
| Chris Martin | Dave Dallas | Dewey Kuchle | Andre Dicaire | Kim Michon |