New Vid Today! – Rocky Mountain Way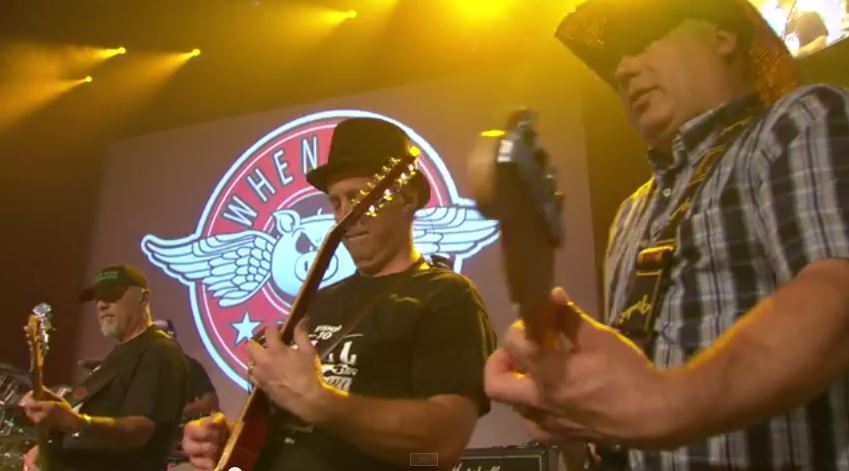 Here's one you haven't seen yet.  This was shot in July of 2013 at Flames Central in Calgary.  I didn't even realize it until just now but it seems we had a guest guitar player on stage with us.  The guy at the far right side of frame jumped up on stage with us and started playing Darren's black Fender Stratocaster despite the fact that it wasn't plugged in.  From the looks of the footage it seems he knew what he was doing but I guess we'll never know.  Gotta love a good party.
"Rocky Mountain Way" is a 1973 song by rock guitarist Joe Walsh and his band Barnstorm, with writing credits given to Walsh, Rocke Grace, Kenny Passarelli, and Joe Vitale. The song was originally released on the album The Smoker You Drink, The Player You Get.
Walsh appeared in studio on The Howard Stern Show on June 12, 2012 and talked about how the lyrics to the song came to him in 1972 shortly after releasing his first solo effort, Barnstorm.
"I'm living in Colorado and I'm mowing the lawn. I look up and there's the Front Range of the Rocky Mountains and there's snow on them in the summer. And it knocked me back because it was just beautiful. And I thought, well I have committed. I'm already in Colorado and it's too late to regret the James Gang. The Rocky Mountain Way is better than the way I had. Because the music was better. I got the words, bam! I got all of the words all at once and ran into the house to write the words down. The lawn mower kept going over into the neighbor's yard and ate the garden. It was an expensive song to write!"
This song has been covered by many notable artists over the years including Stephen Stills, Slaughter, and Ozzy Osbourne. How's that for an eclectic mix?
Here's our rendition of Joe Walsh's "Rocky Mountain Way".  Thanks for the great song Joe.
~WPF Dewey