When Pigs Fly To Perform at Emerson Exchange
---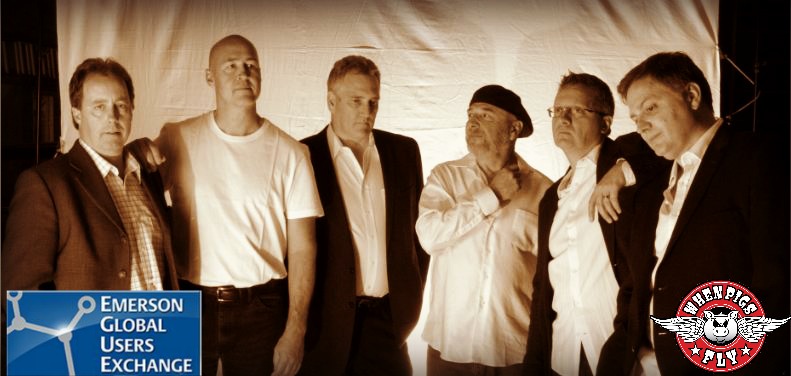 The Pigs are very excited to announce that we'll be appearing at the Emerson Exchange conference in Orlando, Florida next week. We'll be opening up for a one night musicians jam session at the conference which allows musical attendees to participate in an open jam with like minded colleagues from around the world. This jam gives folks the opportunity to take a break from their "left brain intensive week" at a technical business conference and have some creative fun.  It also provides a truly unique networking opportunity that I haven't seen at any other conference anywhere, ever.
We'll kick things off at 8pm on Tuesday, October 7th at Wrecker's Sports Bar at the Gaylord Palms which is right next to the conference center.  The plan is to have When Pigs Fly with special guest, Mark Kennedy, start the show off and then open up the stage for a jam after that.  Musicians that are attending the conference have already signed up for the jam using the Emerson Exchange conference website.
You might be asking yourself  how did When Pigs Fly come to perform at Emerson's Global User's Exchange conference? Well here's the short version of that story. As some of you may already know, 5 of our 6 members work at a company called Spartan Controls. Spartan is Emerson's local business partner responsible for sales, service, and support of Emerson equipment across Western Canada.  As such, most of us have been attending this conference for a number of years along with our valued customers.
So how does that explain the music thing at a technical conference you ask?  Well here's the connection.  Years ago while I was working at Emerson in Austin, Texas, Andre Dicaire and I started a band.  Not long after the project got rolling, I moved back to Canada which effectively put an end to that fun. After that the only chance Andre and I had to see each other and jam together was at this annual conference, Emerson Exchange.
One year we brought our acoustic guitars and set up shop in the hotel lobby for a late night "unsanctioned" jam session.  So many people joined in singing along that it wasn't long before hotel security shut things down.  We sure had fun though and so did the people that came to watch and listen. The next year we did it again and we added Emerson's Mark Kennedy to the show.  Throughout the night we were joined by several other musicians too.  This time we were on the banks of the San Antonio River along the River Walk and the crowd got even bigger.  So big in fact that Andre and I both blew our voices out trying to sing over the noise of the crowd.  Lesson learned. We need to add P.A. and amplification if we were going to keep up.
The next year in Nashville, we added a full stage, drums, mics, keys and even a sound man.  We had an amazing jam that night and really became part of the "unofficial conference agenda". Things have been growing ever since and I guess you might say our little "unofficial" thing has been absorbed into the conference as a fully sanctioned, Emerson supported networking event.  This year we'll be taking over Wrecker's Sports bar and are looking forward to seeing and playing with a ton of different musicians.  It will be a fun break from the conference with people who just love music whether they're playing it or just singing along and hanging out listening.
Hope to see you there,
~WPF Dewey