Darren Eberle – Lead Guitar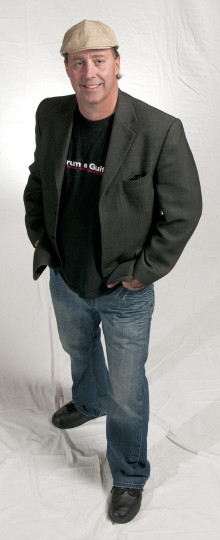 Darren, the Pigs' lead guitarist, was born in Regina and moved to Calgary in 2004. He's a die hard Rider fan and Oiler fan (Go Jordan!) which the band doesn't hold against him….mostly.
Darren started playing organ at a young age and then picked up the guitar when he was 16. His favourite guitar was the 1971 Gibson Les Paul Deluxe Sun burst. His early guitar days consisted of jamming with buddies, writing tunes and  recording them in a studio. At the age of 24, he put his guitar playing on hold when he got married. Marriage and kids kept him more than busy for the next 24 years.  In 2010, the pigs came oinking and Darren has been having the time of his life with playing with When Pigs Fly ever since.
Favorite Bands – Rush, The Who, AC/DC, Led Zeppelin, Ozzy Osbourne
Favorite Food – Steak and Lobster
Other instruments you play – Banjo, Ukelele, Piano, Harmonica
Most famous moment (band or otherwise) – I got to hang with Don Cherry at an Oiler's pre-game warm-up at the Saddledome
Age when I started playing – 7
Favorite song we perform – Saturday Night's Alright by Elton John.  It's just a super high energy song that the crowd always really gets into.
Favorite room you've played – Banff Springs Ballroom
Favorite Music Movie – Almost Famous
Best tip for musicians just starting out – Try and play songs that you really like. Sounds simple but it really helps keep you motivated and ultimately that makes you better.
| | | | | |
| --- | --- | --- | --- | --- |
| Chris Martin | Dave Dallas | Dewey Kuchle | Andre Dicaire | Kim Michon |